DDS lot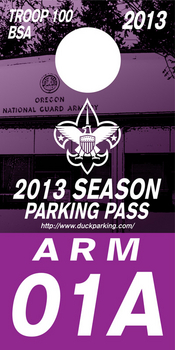 The Boy Scout Armory Lot offers many options:

The Closest RV Spaces You Can Reserve
RV Spaces on pavement, grass, or gravel – many choices.

Season Reserved Car Spaces
Grass for tailgating on the other side of the curb. Room to toss a football or corn hole!

Season reserved "Park & Go" pavement spaces
Secure parking with a short walk to Autzen
The DDS Lot and the LCMH lots are the only lots that allow overnight parking for RVs! Our spaces are for a weekend stay--you may arrive and we will have Boy Scouts on the lot beginning at 6pm Friday night to help you get situated in the spot. You may also arrive on Saturday morning too, although most RVs arrive Friday night. There's no better way to enjoy the Duck Game tailgating with your RV – you come in Friday night, wake up and enjoy the Saturday morning pregame tailgating atmosphere, walk across the street to Autzen Stadium, and back again to continued festivities and your RV's bed with no worries about the go-home traffic! We just ask that you depart by noon on Sunday.

The spaces vary in size. All are approximately 18-20' wide. Most spaces are 40' deep, with some shorter and some longer. While most are generally rectangular, some are irregular in shape (for example, one is 45' deep but the narrow side is 18' and the other is 23'.) Quiet hours are from 11pm (may extend to 1 hour after the game) to 7am. Loud generators must be turned off during that time -- we ask that you please be courteous to the other Duck fans around you. (A loud generator is one that if you are standing next to, you cannot have a comfortable conversation.) Some have clear sky view for satellite reception and some have none because of trees. There is no water, electricity, or septic. RVs must be self contained. We do have porta pots on the lot for our guests to use. We have hired security walking the lot from 10pm until 6am Friday and Saturday nights. The space is a flat piece of ground surrounded by like-minded football fanatics.
2022 SEASON RV SPACES ARE SOLD OUT:
We are maintaining a wait list for the 2023 season reserved space RVs. We are much quieter and "family oriented" lot than other RV lots in the area. Each Season RV space comes with a second Auto pass. However, the auto must also fit in the space allotted with the RV. The 2022 season space is $1260 for the 6 games – which is great because you then know your Duck weekend neighbors and you know exactly where you are going each weekend, not to mention the savings over paying game by game.
Just looking for a single game RV stay?
We still have some RV spaces that are just for single weekend reservations for the Eastern Washington, BYU and Stanford games during the 2022 season. Arrive on Friday, depart on Sunday. The single game RV space is $300 for the weekend and is just for the RV (an additional Auto pass is extra.) We don't charge extra for slide-outs. However, 5th wheel trailers are only allowed with special exceptions made, and if a truck/trailer combo, you may need to disconnect to fit within your space. If coming for just a weekend, we ask that you make a reservation well in advance. Some games already have a wait list. Sometimes we have cancelations, so get on that wait list and we will let you know at least a week before the game.
Interested in a 2023 season RV space or a weekend RV space at one of the first three games in 2022? Email us at: BoyScoutsTroop282@gmail.com or contact us using the "contact" tab above. Please include the type (class A, C, travel trailer, pickup camper, fifth wheel, toy hauler, van, etc.) and length of your RV in feet (include total length with tow vehicle if applicable), and what games(s) you are interested in. Also let us know if you would prefer a space that gets satellite reception (some spaces are blocked by trees).
Note: Alcohol consumption is allowed on this lot as per Eugene City Ordinance 20392, which amended Eugene City Code 4.190. Alcohol is only allowed on gameday, starting 6 hours prior to kickoff and ending when the game is over. Violations will result in the immediate loss of parking privileges with no refunds. Just like on all of the Lane County lots, no open flame barbecues are allowed. But if it has a switch and is off the ground, it's okay – so gas and pellet barbecues like Traegers are fine but briquettes & wood are prohibited. Smoking is also prohibited on Lane County property.