Reserved Parking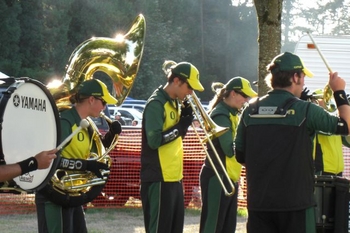 We are pleased to offer season reserved parking to the Duck Fan Community with our partnerships with Lane County Behavioral Health, Department of Youth Services, Department of Developmental Disabilities Lot at 2515 Martin Luther King Jr. Blvd. and the BSA Oregon Trail Council. With their assistance we have developed four unique parking lot options to pick from.
Our oldest and Premier parking location is located at the Oregon Trail Council office (BSA) located at 2525 Martin Luther King Jr. Blvd directly across the street from the Moshofsky Center. This lot has fostered a long term relationship with the fans who park and the youth and adult volunteers.
All spaces are Reserved parking with parking options located in the grass area under the trees and in the spaces marked on the pavement. Some spaces involve jumping a curb.
Our largest location is at the Lane County Behavioral Health campus located at 2411 Martin Luther King Jr. Blvd and situated across the street from the BSA lot.
LCMH lot offers reserved parking on both grass and pavement. Most of the pavement parking is nestled under large growth trees providing the perfect shade during those few days of warm sunshine experienced during the football season. The Fans will share in cross lot laughs and take up impromptu football games.
For those fans who enjoy seeing the opposing team arrive and friendly banter with the opposing team fans. The LCMH lot offers reserved parking in the grass lot with spaces along MLK Blvd and Scout Access Way roads. Here you will enjoy lively festivities, sunshine, and liquid sunshine for your enjoyment.
The LCMH Lot also offers season reserved RV parking for $1,575. In addition, we have "single weekend" RV spaces which are $300 and may be reserved on a single game basis for the first four games only. Since our single weekend games are on grass, we are not taking reservations for games after October 21 (Ducks vs WSU). Depending upon the weather, we may offer single game RV spaces beginning 7-10 days before the game. Contact Boy Scouts Troop 282 at boyscoutstroop282@gmail.com AFTER May 1 to reserve your single game RV space.
The Department of Youth Service (DYS) Lot at 2727 Martin Luther King Jr. Blvd. Here we offer Season Reserved parking on pavement. The casual nature of the fans who park here enjoy the longer parking lot allowing for people to walk around and meet new people and make friendships that last into Autzen Stadium for the season. We also offer full tailgating game day spaces ($50 per space).
The Developmental Disabilities (DDS) Lot at 2515 Martin Luther King Jr. Blvd offers season reserved RV parking for $1,575. This lot is SOLD OUT for 2023. We also offer game day car parking on this lot and have a few EV charging station spaces. These are first come first served.
All lots offer tailgating with the fans being aware of and respecting our code of conduct posting the in Rules & Regulations page of this site.
No tailgating event is complete without proper facilities. We have strategically placed facilities through out each of our lots for your convenience. We encourage all fans to use these facilities for the safety of all our patrons and volunteer staff members.
We provide additional lighting on the lots during those departures that occur during evening hours.
With the lighting, we are also provide additional security as part of our crew to assure that all fans are safe.
See our rules-regulations and FAQ pages for complete details.